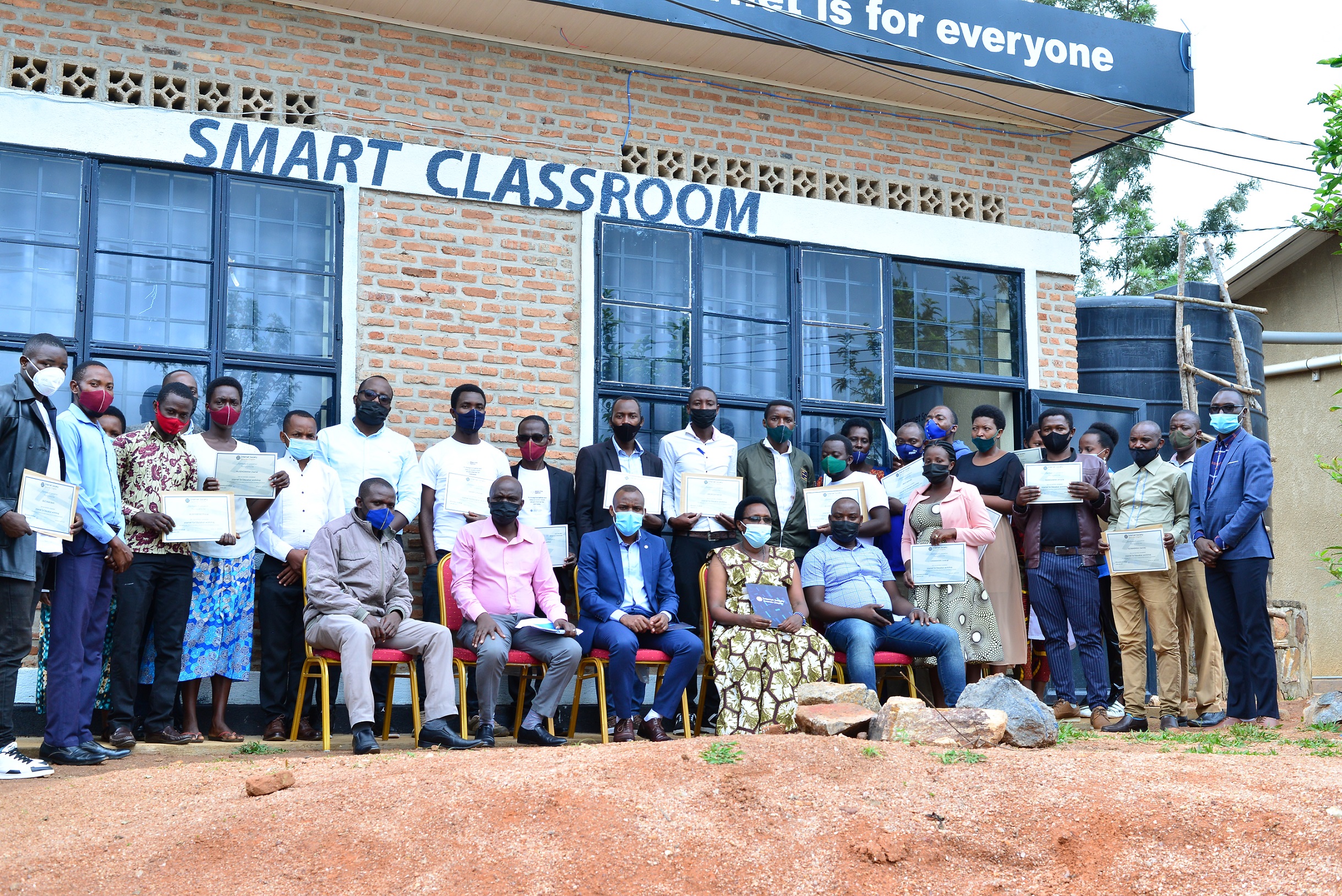 Teachers of G.S ST TITE BUTERERI are grateful to the ISOC Rwanda Chapter for introducing them into the world of Internet technology.
This was stated by teachers of G.S ST TITE BUTERERI after establishment of the Internet Infrastructure in the school and being trained on the role of the Internet in education by the ISOC Rwanda Chapter through the Connecting G.S ST TITE BUTERERI project.
YANKURIJE Donathille, Head teacher of G.S ST TITE BUTERERI says that before the project they were in solitude but with provided computers, students are doing tests typed by the teacher using a computer and appreciate the work done by the Internet Society for bringing them into the world of technology.
She said "this project of the Internet Society came to warm us up which is what I feel we celebrate today as teachers and children in this school. In the past days, we have been very grateful to the district administration for linking us to them to free us from the loneliness we were experiencing due to the lack of access to technology. So, we were lonely and had nothing. REB once wanted to help us with computers, but we had a challenge of having no rooms. so, this room we are in has been built by this Internet Society's project with the aim of enlightening the teachers and students of this school about the use of the Internet through teaching or learning various courses for students.
These computers are 20 desktops. As you see they really warmed us up. After putting them in this room, they trained teachers for 5 consecutive weekends and they didn't do it during the school days.
These teachers you see are now very happy to talk about it because maybe I gave an example in a test we did in the past days, every teacher who didn't know how to open a computer before typed the test, the students did a test typed by her teacher.
We thank you so much on behalf of my colleagues because you really get us rid of loneliness, somewhere that no one can explain. Now, we are going to go to the same level as others.
UWAMAHORO Solange, Teacher of Hairdressing and Skin Beauty who didn't know how to use computer, using provided computers and training, is able to prepare lessons, find information online and prepare students portfolios.
She said "You have provided a lot for a period of ten days, training us on the applicable computer programs. We didn't get out with nothing. Starting from me for example, Now, using Internet that you have provided, I am able to prepare well my lessons, I can find information about various lessons I teach.
I teach Hairdressing and Skin Beauty. With the help of the Internet you have provided, I am able to find information and I can now prepare student portfolios,
I didn't know how to use a computer but now I'm doing it well and I can prepare exams for students. We truly promise you that this knowledge you have given us and the help you have provided. We promise you that we will continue to use them to improve the quality of technology-based education."
IRANKUNDA Joseph a teacher at G.S ST TITE BUTERERI who got certificate in technology in his old age, has expressed his gratitude of learning Internet Skills with young generation.
He said "Now I stand up as someone who got certificate in technology in old age. I can't tell you what is in my heart, how happy I am for learning with young generation and being lucky enough to be able to achieve what they have achieved with my age has made me very happy. It's something I don't know how to express but I just want to thank this Society that has treated us so well and given us the help of tools of technology. I assure you that in our work mandated by the government of educating children of the country, that we are going to use them to ensure that the children raised in this school have a better life in the future. Thank you."
Connecting G.S ST TITE BUTERERI is one of the projects of Community Networks Program designed to bridge the digital divide in G.S ST TITE BUTERERI by supporting school to gain access to computers and Internet connectivity.
G.S ST TITE BUTERERI is a school located in rural areas of Bugesera District,Ruhuha Sector,Gatanga Cell,Kibaza Village, 3 KM away from Ruhuha Centre. The school currently has 858 students and 32 teachers.